Spring Soccer
---
Spring soccer registration is now open through March 15th

KYSA Spring Soccer is a 9-week program focused on fun and learning for both girls and boys led by Coach Max with the help of his team of qualified assistant coaches.
Spring Soccer is a great introduction for those new to soccer thinking of joining the fall team-based program (September - March). For those players already in a fall soccer program, KYSA Spring Soccer provides extra training and development at the end of the fall season.
The program runs from early April through the end of June and players are organized into two broad age groups:
Player Development (2007 - 2014)

2 sessions per week: one weekday practice and one Saturday session

Active Start (2015 + 2016)

players have one Saturday session per week
All players MUST have soccer cleats, shin guards and shorts.
Ages: Birth years 2007 through 2016
Location: Killarney Oval and Champlain Community Centre
2020 Dates: April 4 through June 20, 2020
Note: No sessions on Easter Weekend (April 11 & 13) or the May Long Weekend (May 16 & 18)
Cost:
Player Development - $160 when paying by credit card (added fee when paying by cheque)

Active Start - $85 when paying by credit card (added fee when paying by cheque)
Last day to register: Sunday, March 15th, 2020
Session cancellations due to weather are very rare. Registered players will only receive email updates for cancellations - assume the session will go on rain or shine
You will be contacted by email near the start of the program. If you do not hear from us by March 30th please contact us to ensure we have your correct email address.
2020 Spring Soccer Schedule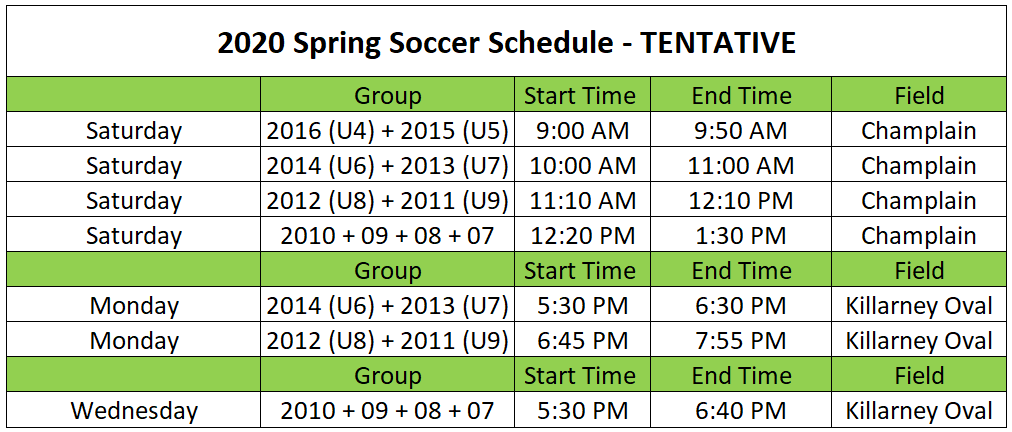 PLEASE NOTE: times and days may change somewhat as we wait to finalize field selection with Vancouver Parks
The confirmed final schedule will be emailed to all registered players