KYSA Whitecaps Club Night is July 2nd
---
---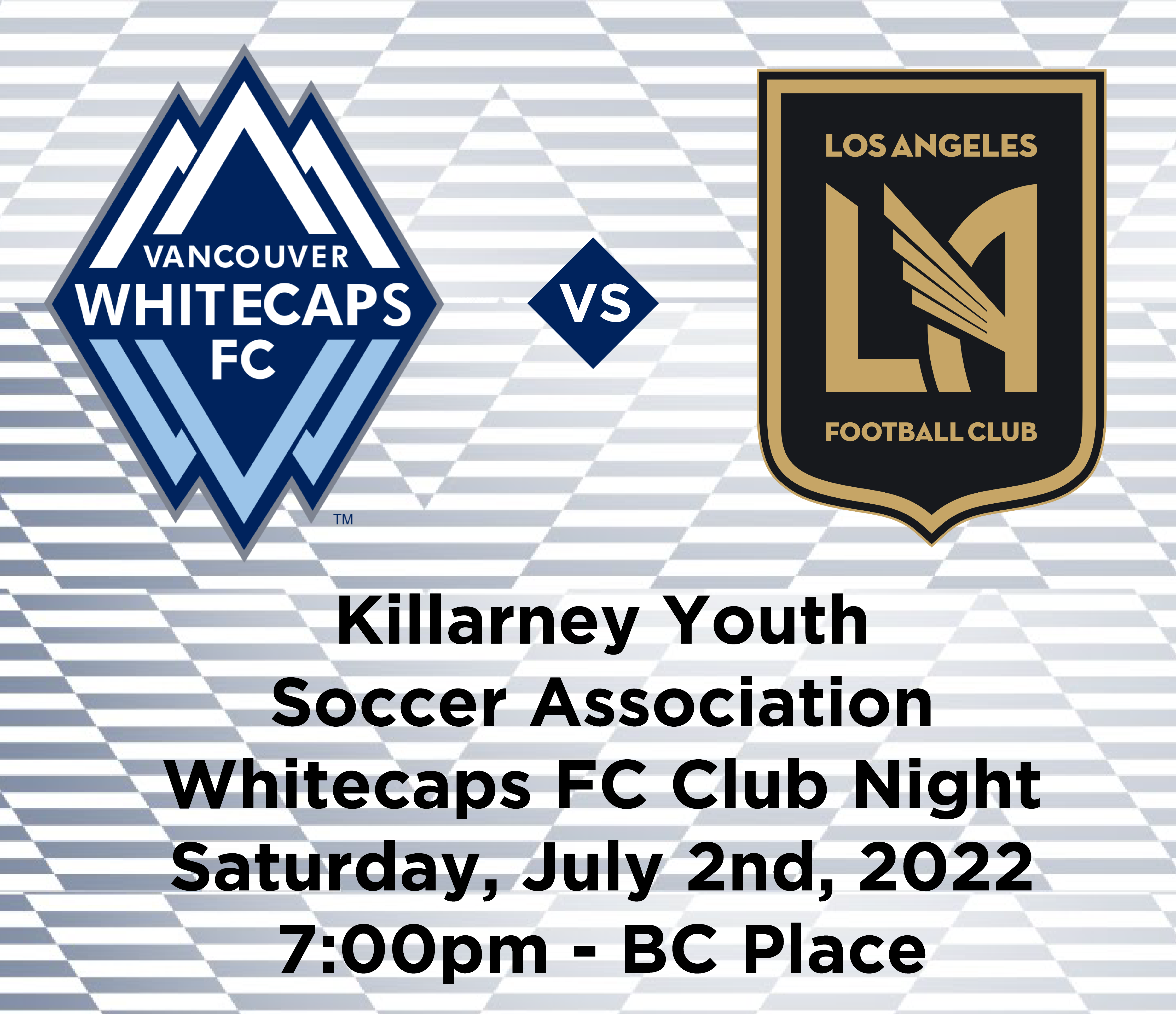 KYSA is excited to announce:
Whitecaps & KYSA Club Night on July 2nd
VANCOUVER WHITECAPS FC vs. LAFC
Saturday, July 2nd
BC Place Stadium
Killarney soccer and the Vancouver Whitecaps are excited to welcome you back to BC Place for the Whitecaps FC match against LAFC. As this match is the KYSA annual Whitecaps night, players, coaches and family members will all have access to specially priced $25 tickets.
KYSA players are encouraged to wear their Killarney FC and represent the club.
For issues or questions with tickets or If you are a coach/manager and would like to arrange a special outing for your whole team please contact Rhyse Harnden (604.678.2854 - rharnden@whitecapsfc.com) directly.
Please be aware of the provincial health guidelines regarding entry to BC Place here: https://www.whitecapsfc.com/matchday/
Whitecaps FC Ticket information
CLICK HERE TO PURCHASE TICKETS HERE
The promo code for KYSA tickets is simply "KILLARNEY"
A discount is applied when you click on your seats. The final price after taxes and fees is $25. Please do your best to not leave single seats as the section reserved for Killarney will sell out quickly. Be aware that sections 226 and 227 are non-alcohol sections.
Player Activity Opportunities at the match
The Whitecaps have created a few on-field activities for KYSA families and players to be involved in at the match. Please note that all parents and players participating in activities must have a ticket to the game.
Activities are as follows:
Giant Procession Flags - Parents & Kids (Adult supervision required - 100 spots available)
Ball Retrievers - ages 13+ (Limited spots)
Player Mascots - ages 6+ (Limited spots)
Looking forward to seeing you at the match!